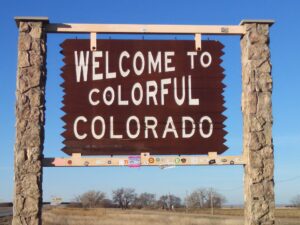 If you are new to Colorado, the lingo might be confusing at first. Here is a quick overview of some common phrases. 
"The Front Range" typically refers to the cities along the eastern side of of mountains, from the Denver metro down to Colorado Springs area.
"The Springs" or "C-Springs" is just short for Colorado Springs.
The "Western Slope" is the western side of the continental divide. Some use this term to refer to anywhere on the western side, including far west cities like Grand Junction.
"Fourteener" or "14er" refers to any of the many mountain peaks with an elevation greater than 14,000 feet above sea level. This a popular hiking challenge, but difficulties vary from peak to peak, and weather conditions can change fast on a the mountain, so be sure to get guidance before your first summit attempt.
"High Country" is simply the upper elevations.
"Flatlander" is an expression used to refer to those who come from lower elevations, particularly those who have trouble driving in the snow or on winding mountain roads.
"Granola" is a nickname used to describe people living an all-natural lifestyle, also known as crunchy living or free-loving hippies.
Got any other slang we should share? Let us know!